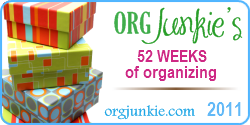 Another great challenge at "I am an organizing junkie". The challenge was to get a drayer of your choice organized. I have so many drawers, some organized, some not, so out of all the drawers I had, I chose the one that I probably needed every day: The drawer in the bathroom where I keep my hairbrushes, nail polish, make up, hair scrunchies etc. I tossed a lot, unfortunaterly I forgot to take a before picture, however, the after picture looks so much better than the before one would have...
Dadaaaa
It's not THE big thing, but a small step forward:) Right?
I will even try to do the Menu Planning Monday challenge on "I am an organizing Junkie", but I'll probably do that in a speparate post later. Aaaaahhh, procastination....